Maximize Results with Eye Serum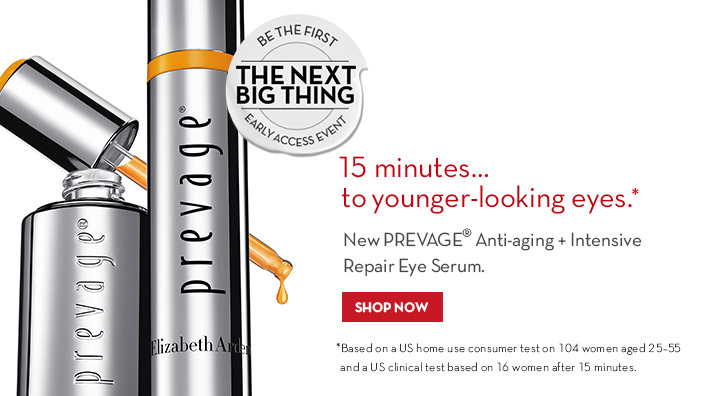 Enjoy the fantastic 15-minute results, but commit to daily use. We know this sounds like a given, but PREVAGE® Anti-aging Intensive Repair Eye Serum takes two weeks for any new step in your regimen to truly become a habit, so be mindful those first 14 days. Sure, those immediate 15-minute results are great, but the long-term impact is a thing of real beauty. Trust us.
Increase your results by using our new PREVAGE® Anti-Aging Treatment Boosting Cleanser before applying your serum. This multi-action, moisture-rich cleanser is specifically formulated to maximize your treatment benefits. And it works: After 2 weeks using the Cleanser, 95% of women said their skin felt more revitalized, looked healthier and showed an increased radiance. And 92% noticed that moisturizers and treatments worked more effectively.
In 4 weeks, stop and appreciate how much your efforts have paid off. Congratulations, if you're like most women you should be enjoying the kind of results that make PREVAGE® Anti-aging Intensive Repair Eye Serum easy to commit to long-term, daily use.
95% of women felt skin was softer and smoother
88% of women felt eyes looked revitalized
84% of women felt eyes looked brighter
81% of women felt this tightened and firmed the appearance of skin in the upper and lower eye area
76% of women saw an improvement in the look of aging eye skin, including sun damage, dry lines, wrinkles and age spots
Consider enrolling in Auto-Replenish, our Auto Re-Order Beauty Program. That way, you'll never go a day without your PREVAGE® Anti-aging Intensive Repair Eye Serum (or your PREVAGE® Anti-aging Treatment Booster Cleanser!) Auto-Replenish is free and it's easy. Just select your Auto-Replenish delivery frequency to automatically receive your products at intervals of 1,2,3,4, 6 or 8 months. You chose the interval that works best for you. Your credit card will only be charged when your product ships and you can cancel your order at any time.