Expert Tips For Lovely Lips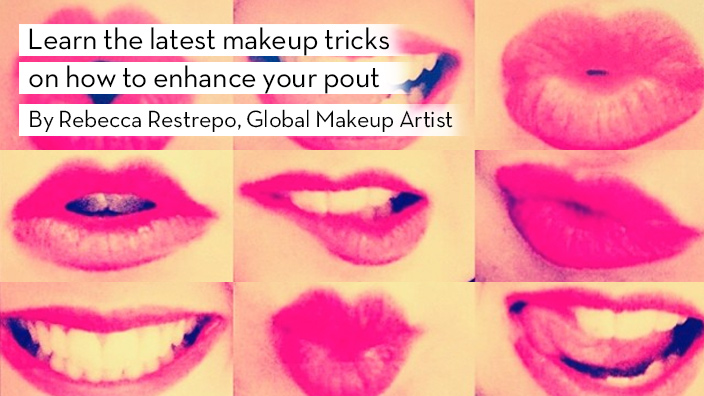 Eyes may be the window to the soul, but few things capture our attention like a beautiful smile framed by soft, full lips. Lips inspire songs and love poems and are equally irresistible with a subtle shimmer or a bold red shine.
So how do you keep this favorite feature looking its best? The secret, as with your skin, starts with keeping your lips healthy and moisturized.
Healthy Lip Tips
What's inside counts. Drink plenty of water and eat a diet with good healthy fats like salmon, avocados and olive oil.
Lick the habit. Constantly licking your lips doesn't moisturize them, it dries them out faster. Instead, keep a great balm handy and layer on whenever you have the urge to lick. Our Eight Hour® Cream Lip Protectant Stick feels good and looks even better.
Exfoliate gently. Softly remove the top layer of dead skin with a wash cloth using a light, circular motion. Easy does it.
Night moves. Always, layer on an extra bit of repair cream at night. Lips love our Eight Hour® Cream Intensive Lip Repair Balm.
Keep clean. Don't forget your lips when you remove your makeup. Clean lips are better able to absorb any treatment you use at night. Elizabeth Arden All Gone Eye and Lip Makeup Remover is a favorite and works like a dream.
Smile. Nothing says confidence and beauty like a warm smile. And it's a great way to show off your soft, healthy lips!
Now that you've got healthy lips and a confident smile, learn the latest makeup tricks on how to enhance your pout.
Easy Tips for a Perfect Pout
By Rebecca Restrepo, Global Makeup Artist
If you're afraid of a dark lip, just go for a slightly darker shade of a color you normally wear. I always recommend women use a lip liner. It helps define the lip and give a perfectly defined pout. It works as an anchor and ensures everything is symmetrical. The color doesn't need to match your lipstick exactly but should match your actual lip color.
Women with thin lips should choose a lip shade that is a little richer than her actual lip color. I use Sugared Kiss Beautiful Precision Lip Liner by Elizabeth Arden. It's the perfect shade of intensified lip color. It helps give a natural enhanced lip line because the tone isn't dark and it has just the right balance of richness.
If you are wearing a dark lip the rest of your makeup should be softer. Keep the eyes minimal. To do this, use either a flesh toned eye shadow, along with black, brown or grey eyeliner at base of lashes. Then apply as much mascara as desired.
For a moisturizing pop of sheer lip color, I love the Eight Hour® Cream Lip Protectant Stick Sheer Tint SPF 15. These tints are perfect for color and protection year round. In the spring and summer, I like to create softer looks with the lighter shades Blush and Honey. For the fall and winter I love to use the darker Plum and Berry shades.
Use Beautiful Color Gloss Sticks from the 2014 Summer Escape Color Collection to the entire Summer Escape Collection, but if I had to choose just one favorite product it would be the Beautiful Color Gloss Sticks. They instantly add a brilliant glossy shine to the lips. It also includes plant-based emollients condition and moisturize.
There isn't a need to change your blush with your lipstick as long as it's in the same color family. Warm with warm and cool with cool. Neutral lipstick can be paired with any blush.
For a fuller lip look, apply gloss all over your lips. Then go back and add extra lip gloss in the center of the mouth for a fuller, more supple lip.
Ready to really show off those luscious lips? Check out more advice on creating fuller looking lips and creating the perfect red lip. And smile! You look lovely.