Jet Set Skin: Skin Care Travel Tips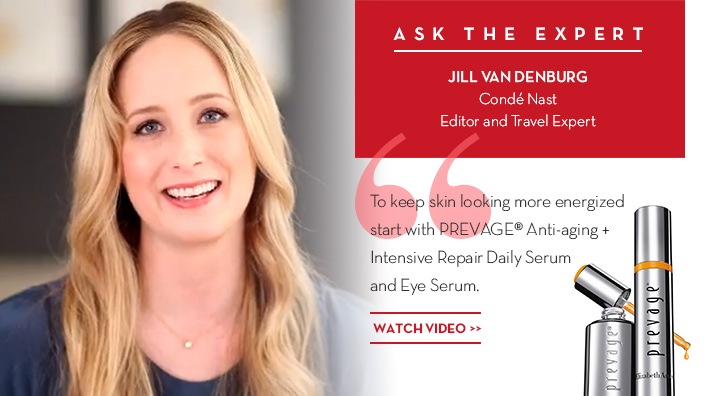 It's travel season and you know what that means? Too much time in airports and planes with bad air and stress. Both can take their toll, but few things will dull your skin more quickly than a couple of hours flying in a pressurized cabin.
Our advice? If you love to fly, don't let it show on your skin.
To help you arrive looking lively and dewy, we've reached out to Conde Nast Travel Editor Jill Van Denburg to see how she keeps her skin looking and feeling great wherever she roams.
So what does someone who travels for a living say is the most important action for great skin? Three words: hydrate, hydrate, hydrate.
Your skin needs even more water than usual to counter the dehydrating effects of pressurized cabins. So, bring an empty water bottle and once you're through security, fill it up. Then repeat. The good news is that water is still free on flights, so ask the flight attendant for an entire can of water rather than just a little cup.
Tip number two from Jill is to use the right products and keep them handy when you're traveling. Jill loves PREVAGE® Anti-aging Intensive Repair Daily Serum & Eye Serum to keep skin looking more energized, smoother and firmer on the go.
PREVAGE® Anti-aging Serums contains Idebenone, a powerful antioxidant that protects your skin from environmental threats like sun exposure and air pollution (that cabin air never seems very refreshing, does it?) that can both cause premature aging and leave your skin not looking its best. Use PREVAGE® Anti-aging Intensive Repair Eye Serum to combat puffiness and dark circles. When used together they improve texture and tone for overall younger looking skin.
Want to try all of Rebecca's tips yourself? Get our new Limited Edition Color Collection here ‪bit.ly/EASummer.
For a quick pick me up, use both these products. In just 15 minutes you can see smoother, more radiant looking skin even after hours and hours of travel.
Finally, never leave home without your favorite pashmina. Not only will it look great, but you can use it as a blanket or pillow on your flight. There's nothing like one of the comforts of home when you're on the go.
Would you like to try Jill's Spring Packing Essentials and see how PREVAGE® Anti-aging Intensive Repair Daily Serum & Eye Serum work for you?