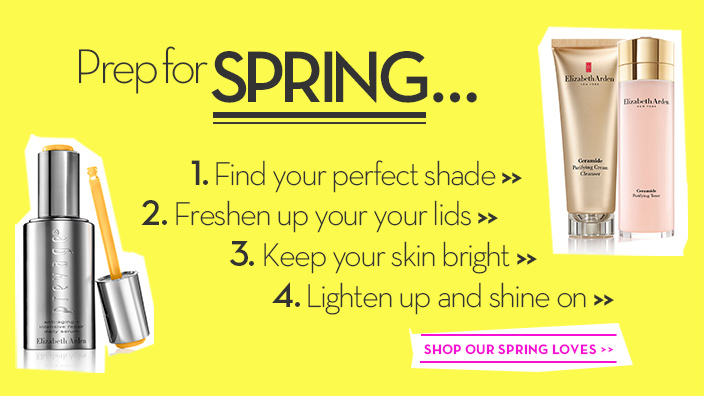 Chances are that by now you are more than ready to ditch black and lighten up for Spring. Now's the time to go for it, and the Spring 2014 Color Trends will make the transition a sugary sweet experience. (We mean that in the best way.)
The experts say that designers are taking a modern twist on the traditional this spring by pairing soft pastels with vivid brights and even black and white to create a colorful equilibrium. So, let yourself get inspired by a mixture of blooming flowers and be confident using color to refresh and revive yourself. Who could resist after the winter we've all endured, right?
We particularly love the blues and greens of the Spring 2014 Color Palette. Start thinking of blue as your new black and have fun pairing 2014's yummy shades of green with silver and sand. Or almost any of the other colors in this freeing collection. Did we mention that icy pastels and hints of pink are also in the mix? The opportunity for some truly fresh color combos are enticing.
But, as you clean out your closet, don't forget to change up your makeup palette, too. Here are a few ideas for keeping your future bright, your skin dewy and your smile the perfect shade of Spring.
Set The Mood:
First, to set the mood, free your body from the winter blahs with a lovely touch of refreshing green. Our Green Tea Energizing Shower Gel and Moisturizing Body Lotion are just what your senses are craving. Nothing says Spring like the fragrant, green tea extract mixed with other clean, fresh and slightly sweet scents to deliver a fragrance that's clean and sophisticated, light yet lasting.
Find The Perfect Shade Of Pink:
For cheeks, lips and eyes, this Spring is the perfect time to find your perfect shade of pink.
For fans of our Beautiful Color Radiance Blush, take a look at these shades as great complements to the season's palette: Blushing Pink, Pink Pop and, for a subtle kiss of color, Sweet Peach.
If you prefer our popular Ceramide Cream Blush, the shades Nectar and Pink are both great choices for this Spring.
Don't forget those lips. In our Beautiful Color Lipstick line the newest raves are all about Pink Vibrations -- a shade that will quickly make you forget winter. Other terrific options are: Breathless, Pretty Pink, Pink Punch and Electric Pink.
Our Ceramide Ultra Lipsticks have terrific options for Spring as well. Get your pink on with: Petal, Ruby Rose, Rose and Baby Pink.
Freshen Up Your Colors With A Bit Of Pink On Your Lids:
Your eyes should be ready to reflect the colors of Spring, too. Freshen up your colors with a bit of pink on your lids. Our Beautiful Color Eye Shadows have a several beautifully blendable hues. Check out these: Romance, Innocence, Iridescent Pink, and Golden Orchid.
Uncover The Pretty Palette For A Flawless Complexion:
Finally, the perfect canvas for Spring's pretty palette is a flawless complexion in a gorgeous neutral. For that, nothing beats our Flawless Finish Perfectly Nude Makeup. There's a good reason that 94% of our customers have recommended this foundation to a friend. The light, breathable formula moisturizes skin for 24 hours*, and smooths on seamlessly for a naturally luminous look that lasts all day. And now that we're seeing a lot more sunshine, the Broad Spectrum Sunscreen SPF 15 will definitely come in handy.
So lighten up and shine on. It's finally Spring and you're going to look beautiful in all the colors of the season.